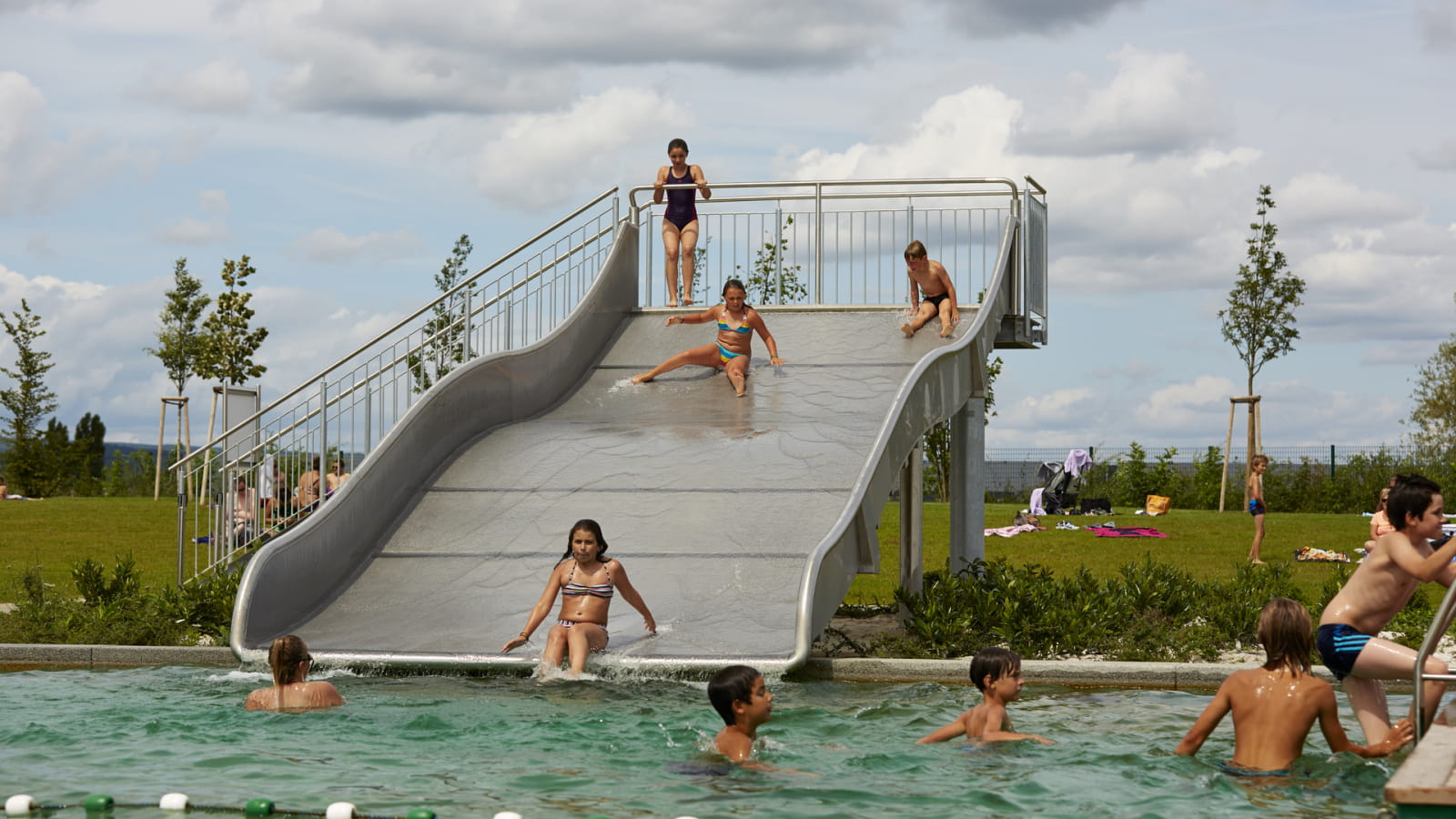 Beaune Côté Plage is a 3000 m² natural filtration swimming facility with 4 pools, a 6 m aquatic climbing wall that's unique in France, slide, rope swing and diving boards!
In an exceptional natural site, experience a moment of relaxation, leisure and sport just a few minutes from Beaune.
Laid out in a natural area, on the shores of Lake Montagny-lès-Beaune, this natural swimming zone is supervised and offers the whole family numerous aquatic activities and courses as well as a "Côté Resto" dining area, all on 14 000 m² of grassy beaches.
Beaune Côté Plage, a natural swimming facility in Montagny-lès-Beaune, welcomes you to its more than 20 000 m² with 4 swimming pools made up of a pool for children of 455 m² (0.60 m deep) and three other interlinked pools: a 705 m² (1.35 m deep) play pool, a 977 m² (1.90 m deep) swimming pool and a 940 m² (3.90 m deep) diving pool.
The Beaune Côte et Sud Agglomeration Community and SUEZ offer what we call natural filtration bathing because the water used is treated by a biological self-purification system for natural water. The regeneration basin, made up notably of reeds, cleans, purifies and treats the water. So you can bathe in natural water, without chemical treatment or chlorine.
Choose from the many activities to suit your preferences!
Splash around in the 455 m² pool for the little ones.
Have fun sliding down the 2.40 m high slide.
Jump off the 1m and 3m diving boards.
Swing and jump from the rope swing and land in the water.
For thrill seekers, experience a unique attraction in France! Make your way up the aquatic climbing wall to jump from a height of 1 m to 6 m into the water.
Relax, admire the view of the Côte de Beaune and enjoy the 14 000 m² of grassy beaches.
This non-smoking site is accessible to people with reduced mobility.
Rates for children (from 3 to 15 years old), adults, groups and subscriptions. Free for children under 3 years.
More information on www.beaunecoteplage.com
Please note: Beaune Côté Plage attendance is restricted to 1500 people per day maximum.
Beyond this limit, no new entry will be allowed. This is for health, safety and pool surveillance reasons.
Access to Beaune Côté Plage:
From the A6 motorway, take the Beaune-Centre 24.1 exit, then follow the D 1074 towards Meursault.
From Beaune Est (east), take the D 1074 towards Meursault.
From Beaune Ouest (west), take the D 1074 towards Montagny-lès-Beaune.
Read more
Beaune Côté Plage : baignade naturelle et loisirs aquatiques
RD107421200 MONTAGNY-LES-BEAUNE
French, English
Prohibited animals
Rates & Schedules
Prices :
Special opening conditions :
Swimming is currently limited to 49 people at the site To consult all the sanitary measures put in place in the bathing area, you can - Visit the website https://beaunecoteplage.com/fr/ - Follow the news of the site on social networks - Call 06.63.98.09.31 to see if there is room No reservation is possible.